V6 Head Stud Kit
3.0 Head Stud Kit by D.O.A. Racing Engines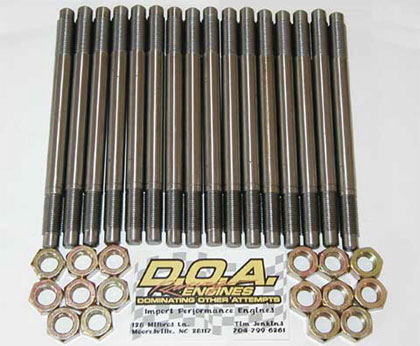 This stud kit is an excellent, affordable upgrade to any 3.0 Toyota engine!!
The factory head bolts are less than acceptable in OEM situations, and are in no way acceptable for any rebuild, performance or otherwise. The OEM torque value of 33lb. + 90ƒ + 90ƒ yields almost a 12lb. variance, and is a serious contributing factor in 3.0 head gasket failures!! This is a fact.
Factory head bolts should never be reused, and this is a major monetary issue, especially when a gasket has failed.
DOA's head studs can be reused repeatedly, have zero torque variance, and aid considerably in head gasket seal!!
This is a "win, win" for the rebuilder and the consumer. DOA's head stud kit costs less than OEM head bolts, and they offer consistent torque yield, and this means a greater seal, period!!
Each kit includes 16 studs and 16 grade 8 nuts.
Note: the factory washers are retained and reused with these studs.
DOA Racing's 3.0 Head Stud Kit, $345.00