Orders are accepted by phone only.
Business hours are 10:00 AM to 7:00 PM MST, Monday through Friday, except major holidays.
Contact information is as follows: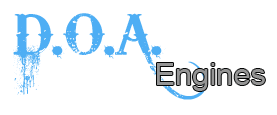 Address:
D. O. A. Racing Engines
8502 S. 203rd Dr.
Buckeye, AZ. 85326
623-327-2134
CORE RETURN POLICY
IMPORTANT: D.O.A. Racing Engines will follow this policy for all returned cores. There are no exceptions!
All cores MUST be submitted to our facility in Arizona within 15 days of customer receiving purchased item(s).
Cores returned are only acceptable IF NO REPAIRS ARE NECESSARY.
Broken parts are never acceptable for core returns.
Excessive wear of non-replaceable components on a core return will make the entire core UNACCEPTABLE. Non-replaceable components include cam journals, cylinder walls, water jacket passage ways, etc.
You can submit ONE core for one product received. This means that you cannot continue to submit cores if the core you originally submitted was deemed unacceptable.
Any core that is deemed unacceptable can be return shipped to the customer at his or her cost. D.O.A. will NOT pay for core return shipping, period.
If you feel these terms are unacceptable we encourage you to purchase from another source that you feel may better serve your needs.
CYLINDER HEAD WARRANTY for *R, *RE, *RG, *RTE, 5SFE, 3VZE
Please Read BEFORE Installing!
All cylinder heads are warranted to be free from defects and workmanship, with the exception of customer remitted head castings. All replaced components however will be warranted to be free from defects and workmanship.
All cylinder heads purchased from D.O.A. Racing Engines carry a 1 year, 12K mile warranty, when installed by a certified mechanic. ASE is acceptable certification.
A mileage statement showing actual mileage is required, showing date of installation, facility invoice, and notarization of document. A mileage statement meeting the requirements must be received by D.O.A. Racing Engines within 30 days of receipt of product purchased, there will be no exceptions. Failure to follow this policy will void any warranty, no exceptions.
All products received must be inspected prior to installation!!!!!
This simple effort eliminates any claim of defective, incorrect, or error in the components / product received. Please do this, as a claim of defects, errors, or incorrect product will not be valid after installation. All products installed are deemed accurate by the purchaser / installer.
If any errors are found, please contact D.O.A. Racing Engines immediately!!!
Follow all return policy procedures for proper resolution.
ABANDONED PARTS AND STORAGE FEES
Items sent in for inspection, claim, or repair work that remain unpaid or without communication for over 3 working weeks from date of receipt will be charged a reasonable storage fee. After 5 weeks, items received without communication will be considered to be abandoned/forfeited, and will be sold for storage fees.
PLEASE DO NOT ABANDON YOUR PROPERTY AT OUR FACILITY. If you cannot take receipt of your property immediately upon the completion of work performed by D.O.A. Racing Engines, promptly communicate your intentions to us in writing.
DOMESTIC SHIPPING
All orders are shipped via UPS, which is normally the most reliable and least expensive method of shipment. UPS offers ground service, plus next day (red label) and second day (blue label) service in the continental USA. Orders for Alaska and Hawaii require blue label service. Please make sure we have your correct street address (no P.O. boxes) and zip code to eliminate delays or undeliverable merchandise. There will be a handling/ packaging fee added to all orders.
FOREIGN SHIPPING
If UPS is not available in your country, we can also ship via USPS, although this method typically takes longer. Also, please allow additional time for customs clearance, when applicable. You may arrange your own freight service, although we do charge a handling/ packaging fee on all orders.
METHOD OF PAYMENT
We accept Visa, MasterCard, Discover, American Express, and Money Orders or Cashier's Checks, in US funds only. All orders must be paid in full prior to shipment. We do not offer open accounts or COD's.
RETURNS AND EXCHANGES
Permission must be obtained prior to returning or exchanging merchandise. Please do not order parts that you do not intend to keep. D.O.A. Racing Engines charges a 25% restocking fee for all returned orders that were correctly shipped by us. No cash refunds, store credit only. Exchanges or credits will not be allowed later than 30 days after purchase. Installed or modified parts cannot be returned or exchanged. No refunds for shipping costs. There are no exceptions.
WARRANTY
All parts are warranted to be free from defects in materials and workmanship prior to installation. Any alteration, improper use, or modification will void this warranty. Purchasers and users of our products are responsible for determining the applicability of a product to their specific application. Warranties are limited to replacement of defective parts proven to be defective in workmanship or materials. The purchaser is responsible for installation and removal of all parts, freight or shipping costs, and incidental or consequential damages.
COMPANY RIGHTS
D.O.A. Racing Engines reserves the right to change the design, materials, specifications and suppliers of any product we offer without incurring any liability or obligation to our customers, or to the suppliers of any such product.
D.O.A. Racing Engines reserves the right to change pricing and availability at any time without notice. We make every effort to present accurate information to our customers, however, we do not accept responsibility for any misprints, misunderstandings, or typographical errors, whether in general content or pricing. If you find anything which appears to be misleading, please bring it to our attention. We always appreciate comments and suggestions.
VENUE FOR RESOLUTION OF LEGAL DISPUTES
The purchaser, installer, user, or owner of any D.O.A. Racing Engines product agrees to resolve any and all legal action in the county of Maricopa, in the state of Arizona, as this is the point of sale.
PRODUCT WARNING/LIABILITY DISCLAIMER
Aftermarket accessories are intended to modify and/or prepare a vehicle for uses which exceed conditions anticipated by the vehicle manufacturer. These uses include high performance demands and negotiation of rough terrain. These conditions have extreme variance and cannot be controlled by the vehicle manufacturer or aftermarket accessory manufacturer. Therefore, the safe control of your vehicle is entirely your responsibility. Do not purchase parts from D.O.A. Racing Engines unless you are willing to accept this responsibility. Do not install any D.O.A. Racing Engines part that you do not feel competent at installing without causing present or future injury to yourself or others; consult a professional installer.
All parts sold by D.O.A. Racing Engines are for off road racing use only and are not intended for use on the street. Modification of your vehicle to enhance performance with the parts sold by D.O.A. Racing Engines can result is dangerous situations that may result in bodily harm. The buyer hereby assumes all risks associated with any such modifications. D.O.A. Racing Engines will not accept responsibility for personal injury or property damage arising from the failure of any parts manufactured or sold by D.O.A. Racing Engines.
DAMAGE CLAIMS
All orders are carefully packaged, however, mishandling by the carrier can result in damage. The carrier has the responsibility for the shipment from the time it leaves our warehouse until it is delivered to you. Therefore, all claims for lost or damaged goods should be reported to the carrier. However, please contact us if you require assistance in making a claim.