4 Cylinder Performance Engines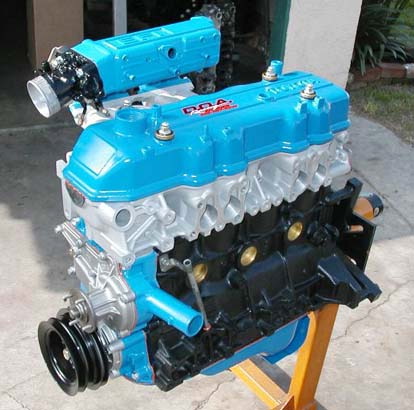 4 Cylinder Performance Engines by D.O.A. Racing Engines
D.O.A. Long Block Assemblies produce a broader hp and torque band than anybody's!
These long blocks come with a variety of options for race or street applications.
Short Blocks
20R Cast – Call for pricing

20R Forged – Call for pricing

22R/RE Early/Cast – $2,200

22R/RE Early Forged – $2,800

22R/RE Late Cast – $2,200

22R/RE Late Forged – $2,800
Long Blocks
20R – Call for pricing

20R EFI – $4,850

22R – 22RE (motorhome/cab & chassis) 150 HP – $3,750

22R-22RE (pre 1985) 164 HP – $3,750

22R-22RE (1985 – 1995) 164 HP – $3,750

22RTE (Turbo) 215 HP @ 6 psi – $4,500

22R-22RE Hybrid (late block/early head) – $3,750

22/20R big bore hybrid – $3,900
Note:
Long blocks DO NOT include induction. Manifolds, plenums, injectors, throttle bodies, etc. are available separately.
Performance Parts:
Crankshaft/Pistons/Rings/Rods
Cylinder Heads
Camshafts
Induction
Master Rebuild Kits
D.O.A. Racing Engines Spec Toyota Competition Engine Assembly
Late model block with D.O.A. internal oiling modifications.
Stress relieved.
Fully deburred main webbing.
Line bored @ 90*, main bore edge deburred.
Decked and surfaced for MLS head gasket.
Honed for 3 ring pak, final brush hone.
Rock Block fill (optional).
Main studs.
Steel crankshaft, fully prepped for competition.
H-beam connecting rods 4340.
Forged pistons.
Premium ring set.
Tool steel pins, lightened.
Clevite bearings.
D.O.A. Racing Engines dual row timing conversion or L.S. chain conversion.
D.O.A. Racing Engines H.F. oil pump with adj. press.
Options:
Call for pricing.
New timing cover, blue printed.
OEM water pump.
Japanese 20R head casting; true race assembly.
Ferrea valves
D.O.A. Racing Engines dual valve springs.
D.O.A. camshaft, custom grind CWC.
Rocker arms, D.O.A. race rack.
ARP head studs.
Valve cover and oil pan.
D.O.A. custom ported 20R intake manifold.
148ci. 232hp. Propane / 104 octane gasoline
DOA Hi Flo™ Plenum-T.B. Conversion (We invented it, we perfected it!)
This conversion includes a D.O.A. modified lower runner assembly, match ported upper chamber and custom bored throttle body assembly. All fasteners, hoses, and clamps are included to perform this conversion. Throttle response is incredible, and both tq. and hp. gains are realized THROUGHOUT the rpm band.